Welcome to my stop of the Where Dreams Descend blog tour! My post for the day is a review, but before we start the show, let me tell you what the book is about…
ABOUT THE BOOK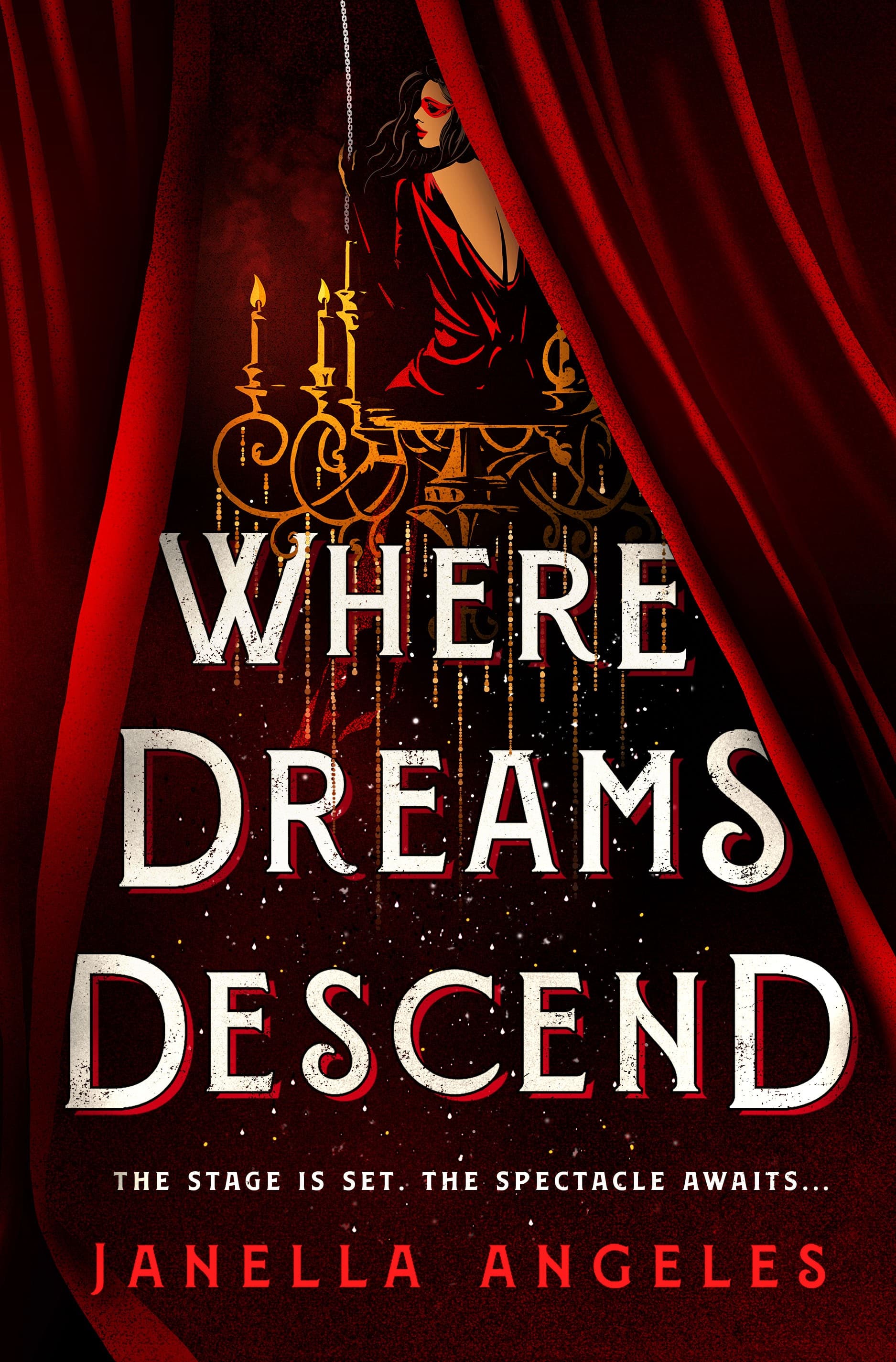 In a city covered in ice and ruin, a group of magicians face off in a daring game of magical feats to find the next headliner of the Conquering Circus, only to find themselves under the threat of an unseen danger striking behind the scenes.

As each act becomes more and more risky and the number of missing magicians piles up, three are forced to reckon with their secrets before the darkness comes for them next.

The Star: Kallia, a powerful showgirl out to prove she's the best no matter the cost

The Master: Jack, the enigmatic keeper of the club, and more than one lie told

The Magician: Demarco, the brooding judge with a dark past he can no longer hide

Where Dreams Descend is the startling and romantic first book in Janella Angeles' debut Kingdom of Cards fantasy duology where magic is both celebrated and feared, and no heart is left unscathed.
————
I grew up in an environment where the people closest to me (myself included) were obsessed with Phantom of the Opera. Quite literally everyone in my family—my parents, my brothers, and my sister—knew every line to every song. That's just the way we were. Every time the musical would make a tour stop in the Philippines and even Korea, we'd be the first to book our seats. When my family dropped me off in New York City for college, our first stop was the Majestic Theatre to watch Phantom. Whichever language and production we watched the musical in, the effect on us was always the same. The franchise has had such a big impact on our lives. 
So when I heard that there was going to be a book inspired by Phantom and Moulin Rouge—written by a Filipino-American author, I knew I had to somehow find a way to promote that on my blog. No way would I pass up an opportunity to boost a book that had Phantom as its inspiration, even more so when it's written by someone from home. And when I got offered a spot in the blog tour, I felt as if I hit a gold mine.
Kallia's a powerful magician stuck in a gilded cage; when she sees the opportunity to escape her life as a showgirl and showcase her capabilities in a contest to be recognized as a full-fledged magician, she leaves behind the past she's grown so familiar with to live on her own terms—no more of others dictating how she lives her life.
Where Dreams Descend centers around three characters, who I could compare to Raoul, Christine, and the Phantom for sure—in the novel, they are Demarco, Kallia and Jack. The three protagonists are so clear-cut and thoughtfully developed, each with their own motives and independent thoughts. Nowhere in the book did any of them fall flat. Kallia being relentlessly charming and confident and willing to go to any lengths to meet her goal, Demarco with his broody aura and mysterious past surrounding his decision to stop using magic altogether, and of course, Jack with his obsessiveness and alluring demeanor.
Perhaps the most striking part of Where Dreams Descend is its luscious writing. It's so descriptive and figurative and so fitting in a book that deems itself to be one where Phantom meets Moulin Rouge. It leaves you wanting more, especially with the dark atmosphere that seems to hover around every scene in the book.
And while this novel tackles themes such as gender inequality and sexism, I feel that the heart of it lies with friendship. For me, the highlight of Where Dreams Descend isn't in the romance or the magic scenes, but the relationship that develops between Kallia and Aaros. Here is a woman who has been told what to do all her life, and on the other hand, here is a man who had been given nothing. Though the two of them don't start off on the right foot, the development between their characters and how they grow to care for one another had been my favorite part.
I think I'm definitely a bit biased since it's two of my favorite musicals written by an author with a background close to my own, but Where Dreams Descend shines through with its descriptive writing style, lush worldbuilding, strong and empowered characters, and engaging narratives.
All of that said, I genuinely adored this book. The ending unexpectedly left me with more questions than I originally had going into the book, and I can't wait for the sequel to be released!
---
ABOUT THE AUTHOR
JANELLA ANGELES is a Filipino-American author who got her start in writing through consuming glorious amounts of fanfiction at a young age—which eventually led to penning a few of her own, and later on, creating original stories from her imagination. A lifelong lover of books, she's lucky enough to be working in the business of publishing them on top of writing them. She currently resides in Massachusetts, where she's most likely to be found listening to musicals on repeat and daydreaming too much for her own good. Where Dreams Descend is her first book.
---
BUY LINKS
Macmillan | Amazon | Barnes & Noble | BAM | Indiebound | Powells
---
EARLY PRAISE
"Janella Angeles steals the 2020 show with her fiercely imagined debut starring larger than life characters, a dangerous world alive with magic, and a dizzying dose of grab-a-fainting-couch-and-swoon-away romance!" – Roshani Chokshi, New York Times bestselling author of The Gilded Wolves

"Where Dreams Descend is a glamorous dark gem of a tale, sparkling with romance, magic, and intrigue. Readers will be captivated by prima donna Kallia as the mystery is slowly unmasked. Bravissima!" – Julie C. Dao, author of Forest of a Thousand Lanterns

"Lavish and opulent in a way that feels warmly familiar yet demands your attention. There are secrets upon secrets, a girl who's boldly ambitious, and truly riveting stage magic. I didn't want the show to stop." – Emily A. Duncan, New York Times bestselling author of Wicked Saints

"Vibrant imagery, jaw-dropping set pieces, sizzling romantic tension, and unstoppable heroine Kallia bring this ambitious debut novel to spectacular life. Fans of Caraval and The Night Circus will be delighted!" – Claire Legrand, New York Times bestselling author of Furyborn

"[A] spellbinding melody of a book, and the true magic is how Angeles puts all the best parts of an enrapturing theatrical performance onto paper and ink. From the gripping twists in the first pages all the way to the final, heartbreaking crescendo, Where Dreams Descend will surge you to your feet in a standing ovation." – Sara Raasch, New York Times bestselling author of the Snow Like Ashes trilogy
---
Title: Where Dreams Descend
Author: Janella Angeles
Genre: Fantasy, YA
Source: ARC via Netgalley
Publication Date: August 25, 2020
Add to Goodreads
Rating: 4/5